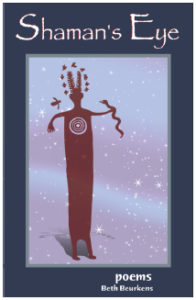 Author: Beth Beurkens
Publisher: Sky Ladder Press
Title: Shaman's Eye
ISBN: 978-Ø-9823922-8-7
Price: $15.95
Year of Publication: 2009
Binding: Perfect-bound paperback
Number of Pages: 96
Genre: Poetry
"Shaman's Eye is a fantastic book. These are beautiful, beautiful poems."
– Michael Harner, Ph.D,
Foundation for Shamanic Studies founder & president
Shaman's Eye, Beth Beurkens' first collection of poetry, takes us on an ancient and contemporary spirit journey to be initiated into the luminous wisdom of the heart. Like sacred stories, these poems move us through haunting, mystical realms, revealing the cosmic design of human life.
Beurkens speaks with deep intuition and keen vision about our connections to the spiritroot, the natural world and to the life-thread itself.
These brilliant, beautiful poems and their companion petroglyph photographs open a rapturous portal to our unity with Source.
Testimonials:
Beth Beurkens is a searching and singing spirit, drawing wisdom from the natural world.

-Joanna Macy, author/teacher, World as Lover, World as Self; Coming Back to Life: Practices to Reconnect Our Lives and Our World
In Shaman's Eye, Beth Beurkens speaks with deep intuition and keen vision about the connection to the spirit-life, to the natural world, and to the life-thread itself. These are brilliant, beautiful poems, each a portal to a world as intimate and sacred as a dream.

-Terry Ehret, author, Lucky Break; Lost Body
Having witnessed how deeply Beth has guided people into healing these last many years, I now have the glorious opportunity to experience her poetry and the source of this sacred connection. She transforms humanness into poetic gesture. Beautiful, authentic, heart-warming…

-Meredith Foster, author/wilderness guide, The Book of the Vision Quest; The Four Shields of Human Nature
Beth Beurkens turns words until the reader feels the freshening of the soul. The images are crisp and soothing, and I became the knower and the known. These poems provide us a stepping stone in the path to the future.

-Eva Shaw, writing coach/teacher/author, Writeriffic: Creativity Training for Writers; Writing the Nonfiction Book
About Sky Ladder Press
Poems are images that give us a window into the life of the soul. Spirit sings. Poetry translates that breath of infinite love and healing to us, illuminates the spirit in us and in our relationship with the world.
Poetry especially carries the power of healing and radiance in it, what shamans call "word doctoring." The rhyme, cadence, rhythm and words can carry us to other worlds where new images, new connections and illumination await us.
As poets we are "priests of the invisible," diviners, word doctors, and shaman mystics. We give shape to the ineffable. A book is a living being that miraculously finds its way into the hands and hearts of others.
Sky Ladder Press was founded to provide quality books that help people discover their relationship to the spiritual and natural worlds, and that give voice to the worlds of the invisible.